Finance Department- Murray Dodge Ram Pembina Valley
We think financing the vehicle of your dreams should be a stress-free experience.While every customer's credit situation is unique, we firmly believe that everyone deserves the best available rate on their auto loan. To help achieve this we have partnered with financial institutions across Canada. By working with over 10 banks and credit unions, our Financial Specialists are able to secure you the lowest rate possible for your car financing.Do you have good credit? Bad credit? No credit? Regardless of your credit situation, our Financial Specialists work diligently to find you a custom solution. There is no one size fits all answer. In order to best serve each customer's situation, our team creates a unique plan that is built around you. It's all part of our dedication to delivering stress-free car financing to drivers in the Morden, Winkler and Carman areas.Were you hoping to get a better understanding of the type of auto loan you will be approved for before you arrive at the dealership?Were you hoping to get approved before you arrive at the dealership? Simply complete one of our Financial Pre-Approval Forms and one of our Financial Specialists will get started right away. Keeping your information safe is our top priority. Our data encrypted Financial Pre-Approval Form guarantees that your information will be kept secure. And of course, if you any questions regarding financing, we're always here to help. Feel free to drop by the dealership, or you can always reach us by phone at (844) 243-2839.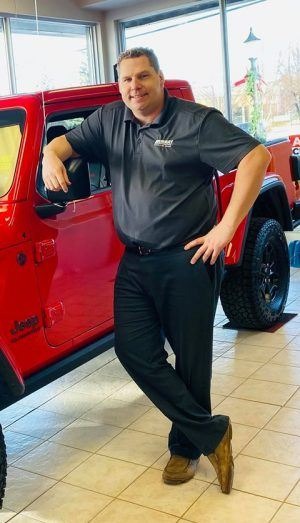 Warren Neufeld
Financial Services Manager
Financial Services & Products
Part of our commitment to delivering stress-free car financing is offering protection for every customer's vehicle and auto loan. Whether it's extending your vehicles coverage, having peace of mind through loan securities, or protecting the vehicle itself, we want to make sure that every customer receives the protection they deserve. Our Finance Specialists take the time to get to know you, so together you can build a protection package custom made for your lifestyle. No matter what life throws at you, we want you to be protected.On top of custom protection packages, all new vehicles are covered with a 3 year or 60,000 km Comprehensive Coverage provided by the manufacturer. Included in this are all non-power train components (steering, suspension, brakes, air conditioning, electrical, engine cooling system, body, clutch and fuel system). Furthermore, all vehicles also receive the benefit of the manufacturers Limited Coverage bundle. This ensures coverage of all power train components (front-wheel drive, engine, rear-wheel/four-wheel/all-wheel drive, transmission/transfer case) for 5 years or 100,000 kms.Protecting your vehicle and auto loan is important. We also understand that every customers driving habits and lifestyle is unique. Sometimes the manufacturers coverage isn't enough. That is why in addition to the standard coverage we are proud to offer:Extended Coverages: Do you wish you could have extra kilometers or a longer term on your manufacturers coverage? Good news! Our Financial Specialists can lengthen the standard coverage. We want the coverage to work around your lifestyle, not the other way around.Loan Security: Unfortunately, bad things happen. You can never be too certain about what life will throw your way. When life becomes unpredictable we want to guarantee you're protected. Thanks to our Credit Life Protection, Critical Illness, and Sickness and Injury packages, you won't have to worry when life takes an unexpected turn for the worse.Vehicle Appearance Packages: You've received financing and are now driving the vehicle of your dreams. Don't you want it to continue feeling brand new? Our Vehicle Appearance Packages ensure that your vehicle continues to look and feel like it did the first day you had it. Our Financial Specialists tailor a plan according to your driving habits and lifestyle. With XPel paint protection, interior protection, corrosion protection and cosmetic rust warranty, your vehicle will be in top condition for years to come.
Pre-Approval Credit Application
Why wait until you're at the dealership to find out about the car financing you will receive? With our Pre-Approval Application, you can get approved for financing before you arrive at the dealership. Simply complete our Finance Pre-Approval Form below, and a Financial Specialist will be in touch with you shortly. Would you like to find out more about financing before you begin the process? You can always reach us by phone at (844) 243-2839 or visit us at the dealership. Our team takes pride in providing loans that are built to work for the drivers of the Pembina Valley. Apply today!
Privacy Statement
Introduction
As a valued customer, we want to ensure that your private information is kept private and only shared with those companies that are authorized by yourself or that are allowed or required by law. This document explains our privacy policy, gives you reasons why we ask for the type of information we do, and if we do reserve a right to share information with non-affiliated third parties, lets you "opt-out" of our reservation to do so. Please take a moment to read this entire policy.
Collection of Information
The purchase of a motor vehicle requires considerable accumulation of non-public personal information. For example, if we sell or lease you a vehicle—extending credit to you at your request—we will receive information from you in order to determine your creditworthiness. We may also obtain information from a credit reporting agency. We may also obtain information from third parties such as employers, references and insurance companies.Some of the information we obtain from you may be required by provincial or federal agencies, such as the Department of Motor Vehicles or the Canada Revenue Agency. This information may be required even if you were to pay cash for your vehicle. Examples would be a driver's license or social security number.
Protecting Your Information
We safeguard nonpublic personal information according to established industry standards and procedures. We maintain physical and electronic safeguards that comply with provincial and federal law. We restrict access to non-public personal information about you to those employees and outside contractors who need to know the information to provide goods or services to you. We prohibit our employees and agents from giving information about you to anyone in a manner that would violate any applicable law or our privacy policy.
Information Sharing
Unless we have indicated our desire to share your non-public personal information with non-affiliated third parties (by checking the box in the section below), we share information:
For everyday business purposes, such as to process transactions, maintain account(s), to respond to court orders and legal investigations, or to report to credit bureaus.
For the purposes of processing a sale or lease transaction at your request or authorization, such as submitting information to third party financial institutions that may be requested to take an assignment of the contract, or verifying insurance coverage information.
When using outside service providers to help us provide you with products and services. Before providing information to our service providers, we enter into contractual agreements prohibiting them from disclosing or using the information other than for the purpose for which it was disclosed.
With "Affiliated" companies. Companies that are affiliated with us include any company that controls us, any company that we control, or any company under common control with us.
I am interested in purchasing or leasing a vehicle and request that my Consumer Credit Report be obtained, at no cost to me, in order to help determine the types and extent of financing which may be available to me.